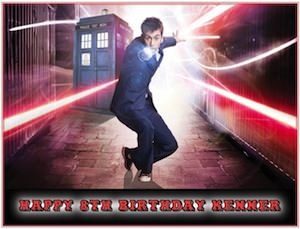 Are you planning a Doctor Who party for a really special friend?
Then how about a Doctor Who cake? This is an edible cake topper image that you can place on a standard store bought cake or one you bake yourself.
The image is 10.5 x 8 inch and shows David Tennant as the 10th Doctor while pointing his sonic screwdriver at you and in the background you can find his travel companion the Tardis.
As you can see on the picture the cake topper even has a personal message on it to make the cake ready for you.
The Doctor Who cake topper is save kosher and gluten free and does not contain soy or trans fats.
Now you Doctor Who birthday party will be amazing with this Doctor Who Edible Cake Topper.