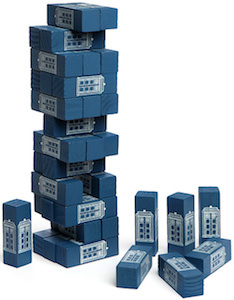 What do you do in between episodes of Doctor Who?
How about playing a board game?
Now you can have a Jenga style Doctor Who game.
This game has 36 wooden blocks that are Tardis blue and have a picture of the Tardis on 4 sides.
Start build a tower with those 36 tardis blocks and then like with Jenga try to remove as many as you can without tipping over the tower.
It will be so much fun when those Tardis blocks come tumbling down and you can start all over.
Plan a fun night of Doctor Who with tumbling tower and an episode of the Doctor.
Lets not wait any longer and order your own Doctor Who Tardis Tumbling Tower Game.