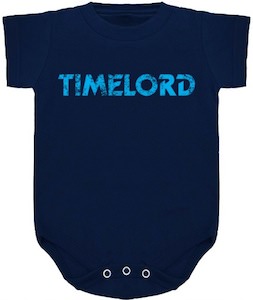 We all know that the Doctor is the last of the timelords but what if he would regenerate and becomes your baby?
In that case the Doctor needs some baby clothes and what better place to start then with a snapsuit that says "Timelord" on it.
You little new born can be the coolest Doctor Who fan of them all specially when he wears this bodysuit.
And this Doctor Who time lord bodysuit comes in sizes from 6 – 24 months.
Get ready for the Doctor regenerating by getting this Doctor Who Timelord Baby Bodysuit.