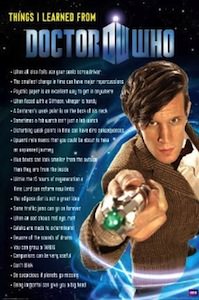 Are you looking for that Doctor Who poster that tells you what you learned from all those hours you spend with the Doctor?
You are in luck as this poster says "Things I Learned From Doctor Who Poster" and it shows a picture of the 11th Doctor while he points his Sonic Screwdriver at you and besides him it says all kind things that you learned thanks to the doctor. Of course I am not gone tell you all of them but I can do one "Don't blink".
This Doctor Who poster is 24 x 36 inch and comes just as poster or if you want you can get it framed to.
Of course the poster will be shipped in a sturdy tube so that the Doctor will not get damaged.
Come and have a closer look at this Things I Learned From Doctor Who Poster.