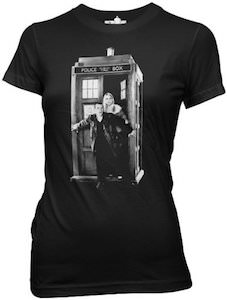 I really enjoyed Doctor number 9 and this t-shirt brings back good memories of the time that he was Doctor Who.
This black t-shirt that is available in a girly fit and a regular cut shows a black a white imagine of the Tardis and Doctor Who and Rose leaving it and looking at something in the distance.
It is a great t-shirt with a real clear imagine of everything that cares and that is of course Doctor Who, his companion and the Tardis.
Now you can show the world what you are passionate about and that you know more then just the current Doctor.
Come take a much closer look at this Doctor Who The 9th Doctor And Rose T-Shirt.