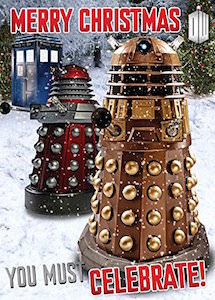 Are you looking for a Christmas card for a Doctor Who fan?
How about one that has some Dalek on them because they seem to be a important part of the Doctor's work.
This Christmas greeting card even has original Dalek sounds inside to make this card an even bigger hit by any Doctor Who fan out there.
On the front of the Card you can see two Dalek in the foreground and in the back in the snow there is also the Tardis and some Christmas trees. On the card is also has the Doctor Who logo and the words "Merry Christmas You Must Celebrate!" and that of course fit perfectly with the way a Dalek would talk.
Get a Doctor Who fan the card it deserves with this Doctor Who You Must Celebrate Dalek Christmas Card With Sound.