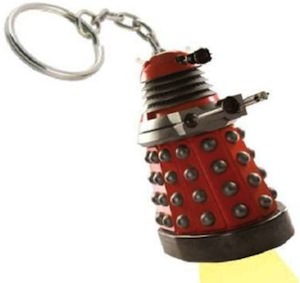 Having a flashlight with you could be handy when it is dark and now you can have one as you key chain.
This flashlight key chain looks like a Dalek one of the enemies of Doctor Who but no worries this red Dalek will be secure to your keys so it will not try to EXTERMINATE anything while living close to your keys.
Maybe the Doctor should get one to so that he can have his Tardis key hang on it.
The Dalek key chain is about 2.5 inch long and has a LED flashlight build in so you get two Doctor Who items for the price of one.
Come and have a closer look at this Doctor Who Red Dalek Key Chain And Flashlight.