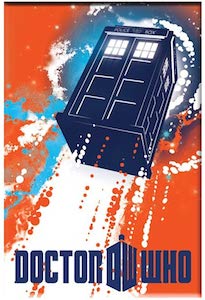 Make your fridge, whiteboard, locker or other metal surface look Doctor Who cool with a Tardis magnet.
This magnet is 3 inch long and 2 inch wide and it shows the Tardis white taking off with lots of orange and white in the background that almost looks like wet paint. And besides the Tardis this magnet also has the famous Doctor Who logo on it to make it all complete.
You clean fridge is your canvas to express yourself on and if Doctor Who is on your mind more then coffee then this fridge magnet just needs to be there.
Now is the time to get your own Doctor Who Tardis Taking Off Magnet.