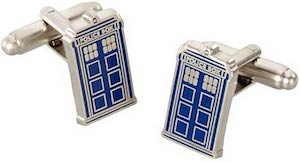 Dress up that boring dress shirt with some fun cufflinks.
And for a Doctor Who fan Tardis cufflinks are just perfect.
These cufflinks show the Tardis in all it's glory. Blue as we all know from the Tardis is the main color on the front and the rest of these Doctor Who cufflinks has a chrome finish even the lines and details of the Tardis are chrome to make it all have a classy look.
And these Doctor Who cufflinks come in a special Doctor Who branded gift box with plush interior and that makes these cufflinks a fun present for a loved one.
Come take a closer look at these Doctor Who Tardis Cufflinks.