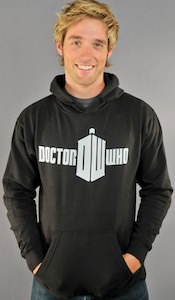 We don't want to get cold while watching episodes of the Doctor and that means a nice hoodie would keep you warm.
Now there is this hoodie with the Doctor Who logo on it.
The hoodie is black and has the famous DW logo that looks a bit like the Tardis on it and it even has the words "Doctor Who" on it to.
This Doctor Who hoodie will make people look at you and then they are gone ask you where you can buy one.
And lucky for all those people this Doctor Who logo hoodie is available in a wide selection of sizes from Medium to 3X-Large.
So get warm and ready for the Doctor in this Doctor Who Logo Hoodie.