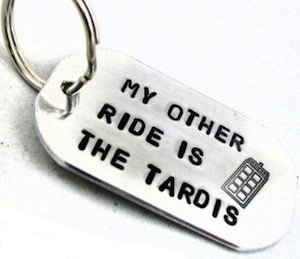 This is the key chain Doctor Who should have.
It says "My other ride is the Tardis" and has a cute little picture of the Tardis on it to.
And this is not a cheap plastic key chain no this one is made from tarnish-free aluminum and that makes it nice looking durable and strong. And the print is not printed on the Doctor Who key chain no it is hand stamped into the metal.
So now you know that this Tardis key chain is unique and special and that makes it a perfect gift for any fan of the Doctor or of course for yourself.
Does your ride have a key chain? If not then come get your own Doctor Who Tardis Key Chain.