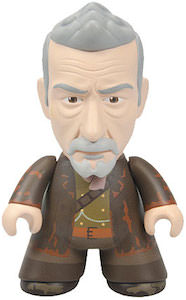 Vinyl figurines are fun and cute and now there is a new one in the Doctor Who series by Titans.
It's the War Doctor and he looks just like how we have seen him in the 50th Anniversary episode "The Day Of The Doctor".
And this is not a tiny figure either as the Doctor is 6.5 inch tall and yes of course he comes in a display box so that you can keep him in mint condition ready to be worth lots of money when there is the 100th anniversary of Doctor Who.
I think the War Doctor would be a great addition to your collection of Doctor Who figurines so I would say don't wait any longer come get your Doctor Who The War Doctor Vinyl Figurine.