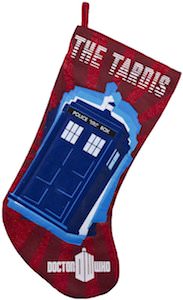 Doctor Who fans like Christmas to and for all of us there now is this fun red stocking made themed all around Doctor Who.
The Christmas stocking is 19 inch tall and red with on that in white print the words "The Tardis" and the Doctor Who logo and then in the middle they sewn on a big blue Tardis and one behind it to give it a feel like it moves.
Lets hop Santa Claus like Doctor Who to because that could mean more and better presents for you this year.
Just get rid of the plain old Christmas stocking and replace it with this Doctor Who The Tardis Red Christmas Stocking.