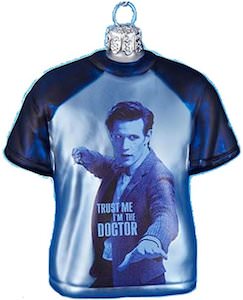 Doctor 11 maybe gone but he still lives on in most Whovian's memories.
And luckily for us there now is a new Christmas tree ornament that is all about Matt Smith as the Doctor.
This Doctor Who ornament is made from glass and looks like a t-shirt with on the shirt a photo of the 11th Doctor and the text "Trust ME I'm the Doctor".
At 3 1/2 inch tall this ornament is just the perfect size to fit in your Christmas tree this holiday season.
Balls are fun but an tree ornament that is shaped like a t-shirt that is what you want so get ready to get your own Doctor Who T-Shirt Christmas Tree Ornament.