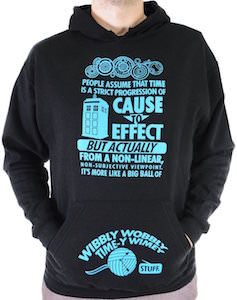 This Doctor Who hoodie explains it all in a way only the 10th Doctor can do it.
This black hoodie shows in light blue the text:
People assume that time is a strict progression of cause to effect. But actually, From a Non-Linear, Non-Subjective viewpoint, It's more like a big ball of Wibbly-Wobbly… Timey-Wimey… Stuff.
And besides the text here are some special symbols from Gallifrey and a boll of yarn and yes the Tardis is also on it.
This Doctor Who hoodies is preshrunk and comes in girls sizes Small – 3XL and they run a little bit on the big size and that means that men can wear them to.
So don't wait any longer come check out this Doctor Who Timey Wimey Wibbly Wobbly Women's Hoodie.