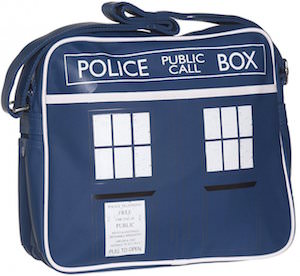 How about a retro style sports bag that will make all the Doctor Who fan jealous?
This blue shoulder bag is perfect, it has one big compartment and a small side pocket and the outside of this bag of course look like the Tardis but the old school version without the latest additions.
And this Tardis bag maybe even bigger on the inside but the official dimensions are 38 x 28 x 5 CM.
There are so many great uses for this bag that even the Doctor would want one. School, work or as sports bag this Tardis bag would be perfect for the task.
Come take a closer look at this Doctor Who Tardis Retro Sports Bag.