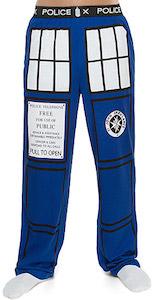 Pajama pants are just great for at home. You can sleep in them but I prefer just to lounge in them all day long.
And now your loungewear can be even better as there now is this pajama pant that looks like the Tardis from Doctor Who.
Every Doctor Who fan is gone want these pants.
The pants are basically the doors of the Tardis complete with panels, windows and signs. And there is a black waist band that spells out "Police Box" but in a different way.
These Tardis pajama pants are made from 100% cotton and the come in sizes XSmall – 3XL so that men and women can enjoy these amazing pants.
Don't wait come and order your Doctor Who The Tardis Pajama Pants.