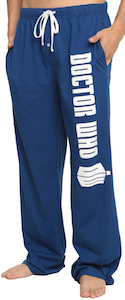 Sure pajama pants with the Tardis, Weeping Angels and even the 4th Doctor's scarf are all great but they are a bit busy.
So now there is a more plain pair of Doctor Who pajama pants.
The pants are a nice blue the kind of blue that reminds you of a curtain police box. And besides the nice blue you can find on the left pant leg the words "Doctor Who" and next to that the Doctor Who logo that spells "DW" and the shape looks like the Tardis.
These Doctor Who pajama pants come in sizes XSmall – 2XL and they are great for both men and women.
Start lounging around in this pair of Doctor Who Logo Pajama Pants.