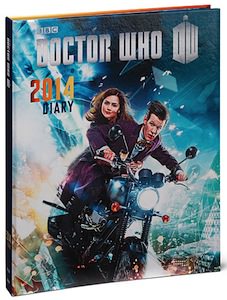 How to you keep track of you appointments, homework and other tasks?
If you are a Doctor Who fan then you use this 2014 day planner.
Yes on the cover it says Diary and I guess that is how the English call a day planner.
This 2014 Doctor Who day planner has a hardcover and a ring bound inside with 120 pages of Doctor Who goodness.
One week spans two pages in this Doctor Who planner and that gives you plenty of room to write all those important things.
And this Doctor Who planner has notes and info about all the episodes from series 7 and yes their will be spoilers if you did not seen it.
So if you don't have a 2014 day planner yet then what are you waiting for come and get your Doctor Who 2014 Day Planner.