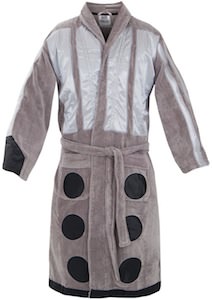 Do you feel like you want to exterminate things when you come out of the shower?
If you do then you may need this Dalek bathrobe.
Are you the Doctor Who fan in need of a new robe? Now you can look like a Dalek while feeling warm and fuzzy.
This bathrobe is grey and has the typical details you expect on a Dalek like the dots on the bottom part.
The Doctor Who Dalek bathrobe is made from 100% cotton terry cloth making it nice and soft and still give you great water absorption as  well.
Now you can lounge around the house and scream "EXTERMINATE!" at anything you want because you are a Dalek.
Doctor Who fans now is the time to get ready to wear this Doctor Who Dalek Bathrobe.