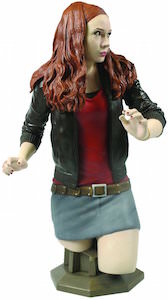 Amy Pond is still my favorite companion for the Doctor and I do miss her.
But now there is a bust figurine of Amy that brings back memories of this amazing person.
The Amy bust is about 8 inch tall and is made in a limited edition so it is a true collectors item every fan of the 11th Doctor and his companion just want.
Just look at the details of the figurine hair, expression and even how show holds her hands are just done perfectly.
I know you want to see Amy again so why wait and just order your own Doctor Who Amy Pond Bust Figurine.