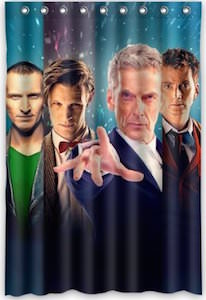 If you want your bathroom to have a Doctor Who theme then you have to come buy this Doctor Who shower curtain.
This shower curtain shows 4 Doctors, in the background you can find Doctor's 9, 10 and 11 and in front of all of them you find the 12th Doctor and he is pointing at you.
Just imagine taking a shower while 4 Doctors are there to make sure nothing bad will happen to you. No Cyberman, Dalek or Weeping Angel would ever dare to enter you bathroom when there are 4 generations of Doctor Who there.
So why not make you bathroom look amazing with this Doctor Who 4 Doctor's Shower Curtain.