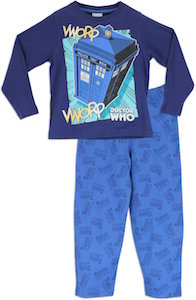 Kids love Doctor Who to and now there is a new pajama set that will make many adults jealous.
This 100% cotton pajama set comes in kids sizes 6 -16 and is officially licenced.
The pants of these Doctor Who pajamas are blue with in a slightly darker blue a logo that says "BBC Doctor Who" and that goes all over the pants. And the pajama shirt is dark blue with on it a cartoon style picture of the Tardis with the words "Vworp Vworp" and the sale logo as the pants around it.
Boys and girls are both gone like these amazing looking Tardis Pajamas For Kids.