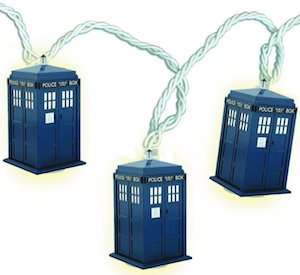 The Tardis is a great way of transportation but unfortunately most of us will never be able in it.
But now you can decorate your home with Tardis lights and maybe then at least you feel like you where part of it all.
This is a 9 feet long string light with on it 10 Tardis lights. And if 10 is not enough then you are in luck as you can connect multiple sets of Tardis lights onto each other.
And the Doctor Who string light even comes with some replacement light bulbs so that you can enjoy this Tardis sting for a long time.
Lets bring light to you home with this Doctor Who Tardis String Light.