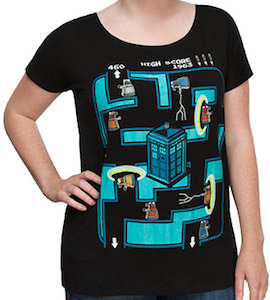 We all know that Doctor Who get's chased down by Dalek all the time and that is why there now is this video game style t-shirt that shows a little bit of this story.
On this black t-shirt you can see a video game with in the middle the Tardis and around it a bunch of Dalek going through the maze trying to catch the Tardis from the Doctor.
And on top you can see the score and how many life there are left and the lives are represented in the shape of Sonic Screwdrivers.
This Dalek frenzy t-shirt comes in a men and women's version so that you can get the shirt you deserve.
Doctor Who fans do not wait much longer, come get your Doctor Who Dalek Frenzy Video Game T-Shirt.