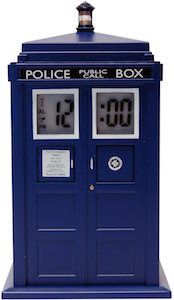 Doctor Who fans can now be woken in the morning with the sounds of the Tardis.
Yes this Doctor Who alarm clock has an alarm sound that sounds like the Tardis and that is not all it also looks like the Tardis and can project the time on the ceiling.
Besides being able to project the time it also flashes when it's time to wake up so that it's like a real Doctor Who party happing in the morning just to get you out of bed.
The Tardis clock is about 4 1/2 inch tall and runs on AAA batteries (not included).
Make waking up fun with this Doctor Who Tardis Projection Alarm Clock.