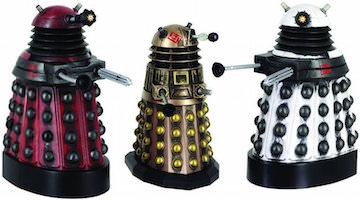 Now you can have 3 Daleks that seems to have walked right out of the Doctor Who episode "The Asylum of the Daleks".
These 3 Daleks have amazing details and colors.
The red and white Daleks are 6 inch tall and the special bronze color one is 5 inch tall.
And even though these Doctor Who figurines look like they are metal they are not, they are made from plastic but still look really amazing.
And to make these action figure set even better they gave the bronze Dalek sound effects to make it look even more real.
If you home does not have Daleks yet then come check out this Doctor Who 3 Daleks Figurine Set.