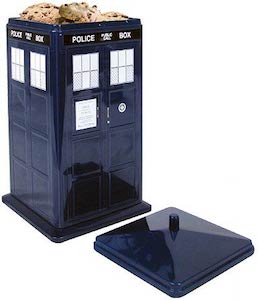 Cookies are important and so is storing them for as long as they last.
Of course there is the nice Tardis cookie jar to store them in but now you can also get a cookie tin.
And this Doctor Who Tardis cookie tin is based on the Tardis that the 11th Doctor used so complete with the St. John Ambulance logo on the door.
This Tardis cookie jar is fun to have in your home or office and is about 10″ tall and has a base of 5 1/2 inch.
Of course the tin is also food safe so store you cookies or sweets in it and hope they will still be there when you want one.
Come and have a closer look at this amazing looking Doctor Who Cookie Tin.