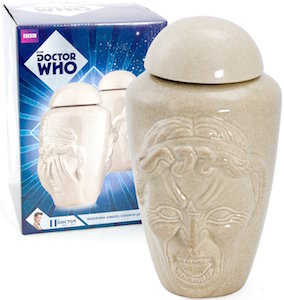 Are you trying to eat less cookies?
If so then this is the cookie jar to get.
This is a Weeping Angel cookie jar and of course all the Doctor Who fans visiting here would love to own one.
The cookie jar has two different Weeping Angel on them one on each side. On one side you just see the face of the scary angle and he probably will try to keep you away from your cookies. On the other side the Doctor Who cookie jar shows an angel holding his hands in front of his eyes and that is a good time to go for the cookies.
Stop eating all those cookies start storing them in this Doctor Who Weeping Angel Cookie Jar.