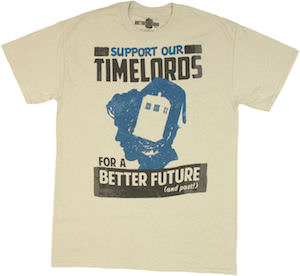 As a Doctor Who fan you of course already support the Time Lords but lets promote it a bit to the rest of the galaxy with this t-shirt.
This t-shirt shows a silhouette of the 11th Doctor's face and inside his head there is the Tardis. Surrounding this picture is the text "Support our Time Lords for a better future (and past)".
You have to admit that this is a brilliant text to have on any t-shirt specially on a Doctor Who t-shirt.
And this Doctor Who t-shirt is made from 100% cotton and comes in a wide range of adult sizes.
Let support our Time Lord by wearing this Doctor Who Support Out Time Lords T-Shirt.