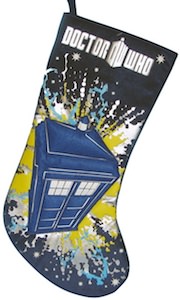 When Christmas comes we all want a stocking for Santa to fill.
And if you are a Doctor Who fan then of course you want a Doctor Who stocking.
This Doctor Who Christmas stocking has the Tardis on it while going through space and on top you find the Doctor Who logo.
This Doctor Who stocking is 17″ long an is made from felt so that it will stay nice for many more holidays to come.
Why go for a simple red stocking when you can have one with the Tardis on it?
You never know maybe even the Doctor will stop bye to bring you a little gift.
Start decorating for Christmas with this Doctor Who Tardis Christmas Stocking.