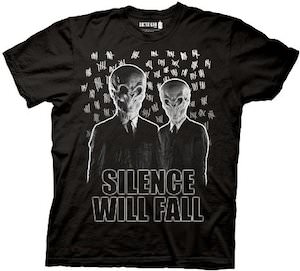 This black t-shirt shows one of the newer enemies of the Doctor.
You can see two Silents standing in front of many count marks and behind the text "Silence will fall".
Of course we know that The Silence wants our world and many they already have it because we can't remember that we seen them.
So before you get this Doctor Who The Silence t-shirt you should know to start putting a count mark on you so that you know that you saw something.
And this Doctor Who Silence Will Fall T-Shirt comes in sizes Small – 3XL so lets get everyone a shirt so that they know what they are looking for.
Add this Doctor Who t-shirt to you collections lets not wait come and get your Doctor Who Silence Will Fall T-Shirt.