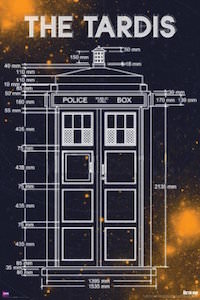 A real Doctor Who fan of course wants to know how big the Tardis really is and this poster will tell you exactly the size of every details of the Tardis.
With this Doctor Who poster you would be able to build the Tardis in the right scale and yes that if of course only the outside as inside is kind of difficult to measure.
This poster is 24 x 36 inch and shows the galaxy in the background and the words "The Tardis" on top and below that a Drawing of the Tardis with all the measurements right beside it.
So if you want to build the Tardis or just want all the facts this poster will give you the answers you need.
Now is the perfect time to get educated about the Tardis by this Doctor Who Tardis Blueprint Measurements Poster.