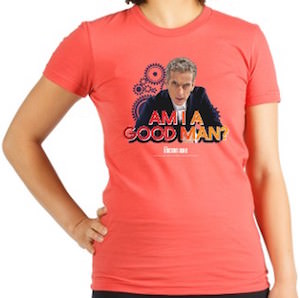 This women's t-shirt shows the 12th Doctor and his question.
Made from 100% organic cotton this t-shirt comes in some fun colors and sizes Small – XL. And if you want they even have different cuts for men, women and children to.
The design on this t-shirt shows a nice picture of the Doctor as if he is facing directly at you and on top of that the words "Am I A Good Man?" followed by the Doctor Who logo below that.
It seems to be something the Doctor worries about so maybe that means that this would be the perfect Doctor Who t-shirt to have so that maybe we all can find out if he is a good man or not.
Come take a closer look at this Doctor Who 12th Doctor Am I A Good Man Women's T-Shirt.