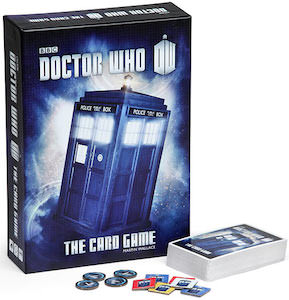 Now every Doctor Who fan can help to save the world.
This Doctor Who card game lets you play with Doctor's 9, 10, 11 and 12 and many companions to to prevent the earth from being take over my one of the many enemies of the Doctor and our planet.
This card game can be played with 2 – 4 players and will last somewhere between 20 and 60 minutes.
So when the Doctor is not on TV you now can save us from harm with you friends by playing this Doctor Who The Card Game.
If I was the Doctor I would like it if my fans would help out with keeping things safe. So lets help out by playing this The Official Doctor Who Card Game.