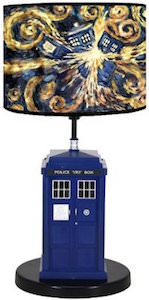 A table lamp for the fans of the Doctor that is what this is.
This lamp is about 18.5 inch tall and has a lamp shade that shows the famous exploding Tardis painting from Vincent van Gogh and below that the lamp stand even has a 8 inch tall Tardis base.
And the Tardis on the base can open it's doors and have sounds effects to make it look even more real.
But don't expect the Doctor to step out of this Tardis as it probably not the real thing that he uses to travel through time and space.
If you want a fun table lamp then you just have to check out this Doctor Who Tardis Table Lamp.