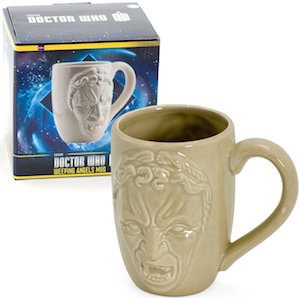 Weeping Angels are not my favorite creature to run into but if you have to then you know not to blink.
If you are a Doctor Who fan that has problems opening their eyes early in the morning then maybe this coffee mug will help.
This mug has a Weeping Angel face on two sides of the mug and these angels are sticking out this is not just another flat mug this is one with a profile.
This ceramic Doctor Who mug can hold up to 12 ounce of hot or cold drinks and of course is gone wake you up right away.
Come and take a closer look at this Doctor Who Weeping Angel Coffee Mug.