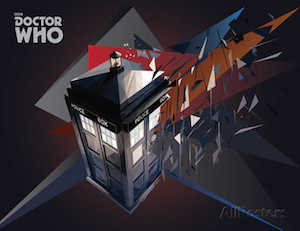 A Doctor Who fan of course would like an amazing poster on the wall of their favorite TV show.
How about this Tardis poster that shows the Tardis breaking through some fun shapes making it look kinda SiFi like.
Besides the Tardis this poster also has the Doctor Who logo in the top corner to make it all perfect.
This poster is 30 x 40 cm and comes just like that or if you like you can get it framed or laminated.
Office, bedroom, and the living room all can use this unique Doctor Who poster so don't hesitate and order your Doctor Who Tardis Geometric Poster.