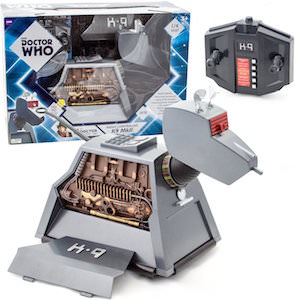 If you are a Doctor Who fan that really wants a dog then you just have to look at this K-9.
This is a remote controlled K-9 just like we know the robot dog from the Doctor Who TV series.
K-9 is about 1/4 of the original K-9 size but just like the real robot dog he can move around with and has real sounds and light.
Just maneuver your own K-9 robot dog through your life and of course show it to all your Doctor Who loving friends.
So why not add a dog to your life and this one does not need to go for walks and no poop to pick up either.
Doctor Who fans come take a closer look at this Doctor Who Remote Controlled K-9 Robot Dog.