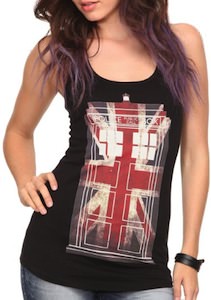 Summer will be getting better when you wear this Tardis tank top.
This women's tank top is black and has a racer back to keep your shoulders nice and open.
And on this tank top you can see the Tardis from Doctor Who but this time it is not blue, this time it is painted like the flag of England the Union Jack.
And this Doctor Who tank top comes in a nice range of women's sizes and it is made from 100% cotton so that you can wear this Tardis shirt all summer long.
So if you are looking for a typical British Tardis shirt then come see this Doctor Who Union Jack Tardis Tank Top.
You may also like: