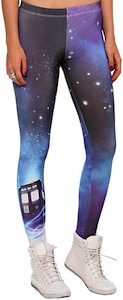 Leggings come in all kind of prints but now you can get Doctor Who leggings with the Tardis on it and a big galaxy.
These Doctor Who leggings have a print of the galaxy where the Doctor travels through and then on the bottom of one of the legs you can see the Tardis appear.
And we all know that the Doctor is near if the Tardis appears.
These fun Tardis leggings comes in a range of sizes from X-Small to X-Large.
If you are a Doctor Who fan that likes to be stylish and warm then you should check out these Doctor Who Tardis Leggings.
You may also like: