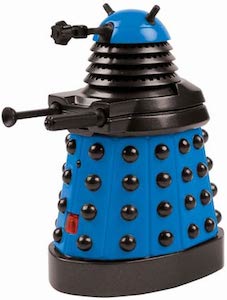 Are you afraid the Doctor is coming to steal things from your desk?
If you are then you need this Dalek to patrol your desk.
This 4 inch tall blue Dalek will patrol you desk all day long for hours and hours without bumping into things or even falling of.
And when it turns it even says "EXTERMINATE!" (you can turn this off) so you will be sure people stay away from you belongings.
This Dalek toy is fun for you desk and I am sure that Doctor Who fans will stare in amazement when they see the Dalek moving around on your desk.
Don't wait come and get your own Doctor Who Patrolling Dalek.