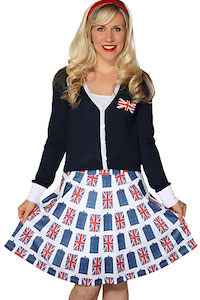 Shows some legs and that you are a fan of Doctor Who with this Tardis and Union Jack skirt.
This white Doctor Who skirt is covered in towns on pictures one of the Tardis and the one of the Union Jack flag and then one of the Tardis again (I guess you get the picture)
This fun skirt comes in all kind of sizes from Small – 2Xl and women all over the globe are gone want one so why wait till they have one when you can have one much sooner then them.
Support the Doctor by wearing hits Doctor Who Tardis And Union Jack Skirt.