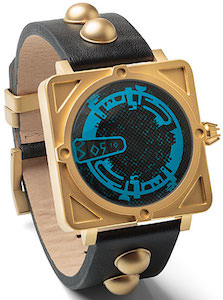 If you always are missing out on time then maybe you need to Exterminate! it and this Dalek watch can help you with that.
This is a special limited edition Dalek watch that will be loved by many Doctor Who fans.
As you can see on the picture above the details are amazing and make you think Dalek right away.
And this Doctor Who Dalek watch is numbered and comes in a special gift box to make it the perfect present for the fan of the Doctor that has everything else.
This Dalek watch has a stainless steel gold colored case with a blue digital watch face and the black leather strap has golden dots on it to make it look like a real Dalek.
Doctor Who collectors this is a limited edition product so come check out this Doctor Who Dalek Watch.