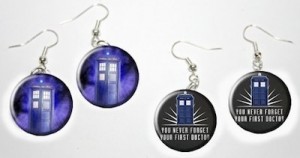 Did you always wanted some Doctor Who earrings?
If so then you are in luck because now you can get this set of two pairs of Tardis earrings.
Jewelry needs to be special and if you are a true fan of the Doctor then these earrings are special.
The first set of earrings just show the Tardis in a cloud of smoke and he other pair has a black background and shows the Tardis and below that it says "You never forget your first Doctor".
The Doctor Who earrings have a diameter of 1 inch making them the perfect size to be there but are also not to much of a show off.
If you want to surprise your special Doctor fan or just yourself then you have to see these Doctor Who Tardis Earrings.
You may also like: