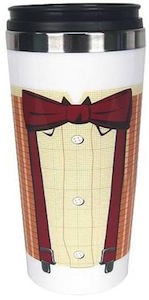 Are you always on the go and can't live with some fresh tea or coffee?
If so then you need this Doctor Who travel mug.
This mug is based on the 11th Doctor and you can see that on the way it is decorated. It wear the clothes of the 11th Doctor complete with his bow tie.
This Doctor Who mug hold up to 16 ounces of you favorite drink.
The travel mug has a plastic outside and a stainless steel inside so no worries about BPA and other bad plastic touching your drink.
Come and lets have a drink out of this Doctor Who Travel Mug.