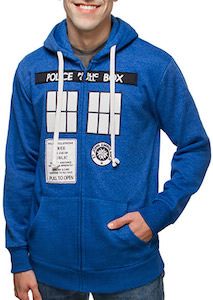 Feel a bit like the Tardis from Doctor Who by wearing this amazing looking hoodie.
Unfortunately I was told that this hoodie is not bigger on the inside but still it looks great.
This Tardis hoodie of course is blue and on it you can find the doors from the Tardis and that includes the door sign and the St John Ambulance sign and yes the windows and the "Police Public Call Box" top sign to.
And all that can be found on a zip up hoodie that is available in sizes Small – 3XL.
No more plain hoodie for any Doctor Who fan because now there is the perfect Doctor Who Tardis Hoodie.