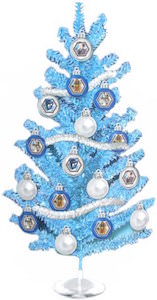 No room for a big Christmas tree?
If you like Doctor Who then you are in luck as this is an 18 inch tall Doctor Who Christmas tree set.
The set includes a blue tree and a garland. And there are ornaments to, 22 ornaments that have pictures on them like the 11th Doctor, Tardis, Dalek and Cybermen.
So now even the smallest space can have some fun Christmas decorations. Whovian's can now have Doctor Who Christmas trees at home, work and maybe even at school.
A fun little blue tree like this is just a perfect way to prepare for this years Doctor Who Christmas special. So don't wait any longer just order your Doctor Who Christmas Tree Set.