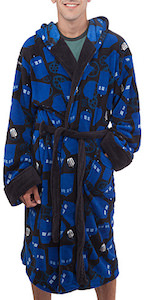 This fleece robe is for all the Doctor Who fans that like the new Doctor Who promo with the gears.
On this black bath robe you can see the blue Tardis all over it and also blue gears just like you can see in the Doctor Who intro and besides all that blue and black there also are some white Doctor Who logo's to switch it up.
And this Doctor Who robe also has a robe to keep you head warm.
Lounging around the house or being comfortable when leaving the shower a robe is what you need so come check out this Doctor Who Tardis And Gears Bath Robe.