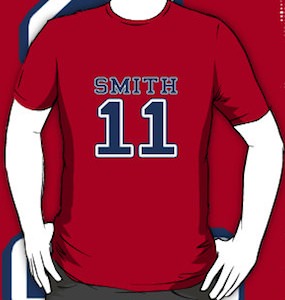 I am definitely a team Smith fan and I understand ever you prefer a different Doctor. Matt Smith is my Doctor Who and he is the 11th Doctor.
But now there is this t-shirt witch comes in 21 fun colors that has a big 11 on it and above that the word "Smith" it's like how they do it on sports jerseys.
The fun thing is that now as a geek people will think you like sports while you actually support Doctor Who.
You can get this print on the front or the back of the t-shirt and the Doctor Who shirt comes in a range of styles for men and women and they even have a hoodie.
No more sports shirts for me I will go for this Doctor Who Team Smith 11 T-Shirt.